It is tablet season, or that time of the year where every consumer electronics manufacturer bombards you with its newest products ahead of the holidays. Microsoft released its new Surface tablets earlier this week, Apple is rumored to release new iPads soon and today Amazon is announcing a trio of its new Kindle Fire tablets.
Yes, there are three all new tablets. First there is the Kindle Fire HD, which is an update to last year's model but now with an even lower $139 pricetag. And then there are the new line of Kindle Fire HDX tablets, which come in a 7-inch size and an 8.9-inch size.
WHAT TO KNOW
The $139 Kindle HD has an HD screen and a new processor
The 7- and 8.9-inch Kindle HDXs have even faster processors and better HD screens
The HDX tablets have a new Mayday feature that puts customer service right on the screen
Earlier this week, ABC News went to Seattle to Amazon's headquarters to meet with its CEO Jeff Bezos to get the low down on these new tablets. Here's what we learned.
Kindle Fire HD: For the Budget Conscious
At $139, the Kindle Fire HD may be the best bang for your buck tablet to come out of Amazon. The tablet has a 7-inch, 1280 x 800-resolution screen and a dual-core 1.5 GHz processor that's faster than last year's model. The tablet still runs Amazon's own version of Android, now called Fire OS (more on that below), and has features like the X-Ray for movies, which breaks out characters in the movie and tells you what they were in before.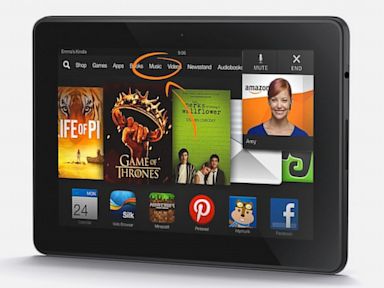 Bezos repeated what he has said before on how Amazon is able to keep hitting such low prices on its tablets. "We want to make money when you use the device," he told ABC News. That is, Amazon makes money when you buy the movies, music and books from its store, which it places front and center on the homescreen.
Kindle Fire HDX: For the Screen-Quality Conscious
But if you are looking for something thinner, lighter, faster and with a better screen there is the new HDX line of tablets. Amazon said that both of these tablets have three times the performance power of last year's model with quad-core Snapdragon 800 processors and 2 GB of RAM. Things were very speedy on the screens, but it's the quality of those screens that really impresses.
The 7-inch version has a 1920 x 1200-resolution screen and the 8.9-inch version has a whopping 2560 x 1600-resolution display. (The 9.7-inch iPad with Retina has an 2048 x 1536 resolution.) Amazon has also reduced the glare, making them easier to read outdoors or in bright light. The 8.9-inch version is the most impressive, especially considering the tablet weighs only 13.2 ounces. The 7-inch HDX starts at $229 and the 8.9-inch at $379. Both will also be offered with AT&T and Verizon service.
"We want to make money when you use the device."
Fire OS and the Mayday Button
Amazon certainly put a lot of engineering into its new tablets but Bezos was more excited about some of the software features added to the company's Fire OS 3.0. The general design of the software has been cleaned up. Now you have a carousel of the content (books, movies, etc.) and apps you use the most but below that you can swipe down to see your apps. In other menus you can swipe from the left to see menus and open apps.